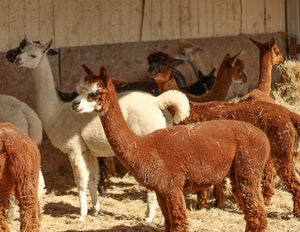 Life is Better with Alpaca
Luxury at Your Fingertips
For the Fiber Artist
Life is Better with Alpaca
Butterfield Alpaca Ranch is nestled in the rolling hills of south central Nebraska near the Harlan County Reservoir. With a focus on the luxury fiber produced by these elegant and graceful animals, we raise both the Hucaya and Suri alpaca breeds. Alpaca fiber is known for being hypoallergenic, ultra warm, exquisitely soft, water repellent, stain resistant, and highly durable. We believe life is better with alpaca.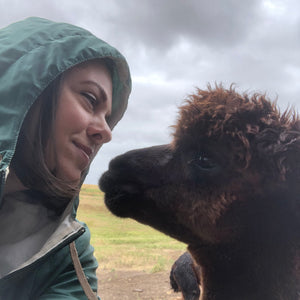 Tashia Butterfield
Alpaca farmer, knitter, crocheter, spinner, teacher, YouTube content creator, writer, and owner of Butterfield Alpaca Ranch. 
Tashia began teaching crochet at a local yarn store in Chicago in 2010 where she was introduced to the world of natural fibers, including luxurious alpaca. In 2011, she visited in alpaca farm and became obsessed with these graceful and beautiful animals. After teaching English in South Korea for 6 months, Tashia moved to Nebraska - where her Butterfield ancestors had settled over 125 years previous - to establish the Butterfield Alpaca Ranch in the spring of 2012. Now, the herd has grown to 40 alpacas and llamas and maintains a focus on quality alpaca products and the fiber arts.
Subscribe to Stay Connected
Updates, new releases, and promotions. Directly to your inbox.